Finally it's time to reveal what DIY projects I undertook for the big day, after keeping mum and sheepish in the earlier entries.

I truly never thought that I would be this crafty...in fact, arts and crafts is never my kind of thing. And like any other bride, I wanted my angpow box, hand bouquet to be unique...I even toyed with the idea of a crystal bouquet which would cost hundreds into the thousands depending on intricacy of design...and then the next question is what for? Ideally I'd have loved for my bridesmaids to carry fresh flowers but with the big day being so near Valentines - damn you, florists for upping the prices, it would bust my budget terribly.

What started off as just the angpow box became the bridesmaids bouquets, groomsmen boutonnieres, candy table flowers, pompoms, banners - the road of no return indeed.

Ang Pow Box was the first to get completed. We are admittedly not arty farty people but this was one of those things we were willing to be somewhat creative for.




We wanted to keep the budget low but not compromise on the way it looked - like budget chic? This comprised of a random snow chip box, A4 paper box and a cereal box. I became a garang uni woman because of this project.

The funniest thing had to be, we made this even before designing our whimsical card.





We all heard your ang pow votes - baby yes.


I'd advise all DIY brides to start ahead of time - I started sometime 6 months before trying out the fabric, finding suitable tutorials and in all honesty, I really only wanted felt daisies and they became horrendously labour intensive roses. ;x




The first of the many steps involved in completing 1 single felt rose. We all sat down as a family like a factory line up - every one had a piece to cut and I never knew how 60 roses or more could kill so many weekends. If anything, this preps me for any craft work my mini may require years down the road.




A labour of all our hard work with every single rose cut and glued together. I never hated roses this much till now - for all the layers.




Just really thrilled how these all came together. The reds formed the bridesmaid bouquets.




All pretty and ready for the march down the aisle.




Spot the handmade roses and boutonnieres! The boutonneires were comparatively SO easy to make and they actually outlasted the fresh flower corsages the bridal studio provided.




Someone cheekily told me red goes well with cream and once again, we went bonkers with the cream roses.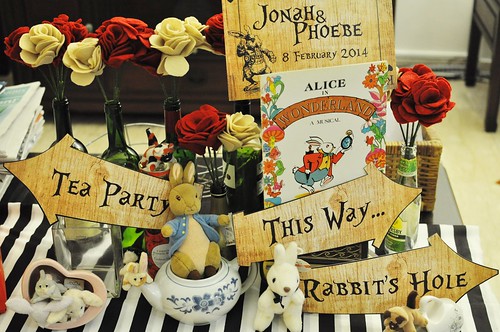 How it all came together, at least it was a tentative design. We tried so hard to keep to a whimsical Alice in Wonderland theme - hence the soft toys, wine bottles and signages (thanks Pearlyn for the help!!)




It was supposed to look like this but on the actual day too many things went wrong for them to all be on the same table.




With random scraps around the house, we decorated our own Brides and Bridesgroom chairs. Would you believe me if I said these were organza runners from my mom's table arrangement?




All hail Daiso for 15 pieces in a packet of $2 pompoms. I tried creating my own that ended up looking bigger but less uniform. They were used in the lunch reception tentage and the ones stringed above but had I known Daiso had these, it'd have saved me SOOOO much trouble!!!




Spot the banner behind that we painstakingly put together and looked so small in pictures. On hindsight, maybe I should have just got balloons instead.




At church :)




Hopping onto the instagram bandwagon.




On the actual day. :) See how my roses ended up as a table piece during the reception at dinner?




My DIY candy table.

Have fun, all you bride to bes!